Admissions - New Starters in 2020
To all Parents and Carers of children starting school with us in September 2020,
Firstly, I would like to give you a warm welcome to Cropwell Bishop Primary School! Despite these difficult times I would like to reassure you that your child starting school will be just as special and well supported as ever.
At this time, I would usually be inviting you and your child to our 'Welcome Meeting' and the following transition sessions. We are currently unable to give a definite schedule for these, nor plan for what they may look like, but please see the welcome letter below from Miss Hussey, our Head Teacher, with a little more information. As soon as we know any more, we will inform you and be extremely excited to meet you all and get ourselves ready for your child starting school!
Until then, please look at some of the documents listed below for you. For those of you who don't have an older sibling in the school and haven't met me yet I have attached a picture below 😊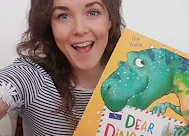 If you would like for your child to hear me read some stories I have set up a YouTube channel for my current Class R whilst we are at home, you are more than welcome to access these stories and activities and familiarise your child with their new teacher. Simply search 'Mrs Bird's Home Learning' on YouTube. But most importantly stay safe and enjoy this priceless time at home with your child!
Many Thanks, Mrs Bird
Welcome from Miss Hussey to New Starters for 2020
Free School Meals and Free School Milk
Cropwell Bishop Privacy Notice
Friends of School Introduction Letter
Second Hand Uniform Information for New Parents
School Money Hints and Tips for Parents
EC46 - Pupil Dietary and Food Allergen Form