Friends of School
Stilton Stumble - Sunday 15th October 2023

Dear parents and carers,
With your amazing support, top cake eating, enthusiastic bouncy castle jumping and expert rat splatting and with the hard work of volunteers and school staff, the summer fair has raised an incredible £2,446 for the school!
This will go towards paying for 2 new iPads for every class, a total of 14!
Thank you so much for your support, we hope you had lots of fun! We are already looking forward to next year!
Sarah, Alicia, Ingrid, Claire and the FOS team
Thank you for supporting our events with your help we are able to fund many purchases in school:-
Friends of School would like to say a big thank you to everyone who supported FOS through the CoOp Local Community Fund to raise money for the wildlife garden project. A total of £1,813.77 was raised which is fantastic. Great progress has already been made on the garden, we have a patio, paths through wildflower meadow turf, an area for amphibians and lots off new areas of soil to plant lots of plants. We can not wait for gardening club to be able to plant up the new planting areas and for all the spring bulbs to flower and for the animals to move in!
New Round of CoOp Community Funding The other great news is that FOS has been selected to be a charity in the latest CoOP community round of funding. This time FOS are raising money specifically for science resources. The aim is to grow our Green Club and to really educate the children about climate change, by learning about the schools carbon footprint and looking at ways to reduce this through reuse, recycling and offsetting our emissions.
Co-Op Local Community Fund - How it WorksEvery time Co-op members shop at Co-op, 1% of what they spend on selected own-branded products and services goes to help fund community projects where they live. Friends of School is one of the Cropwell Bishop Co-Ops chosen charities. If you are a member of the Co-Op it would be great to have your support by choosing FOS to be your charity of choice. Full details at:
https://www.coop.co.uk/membership/local-causes
The FOS cause page is here..
https://membership.coop.co.uk/causes/72285
Thank you so much for supporting Friends of School.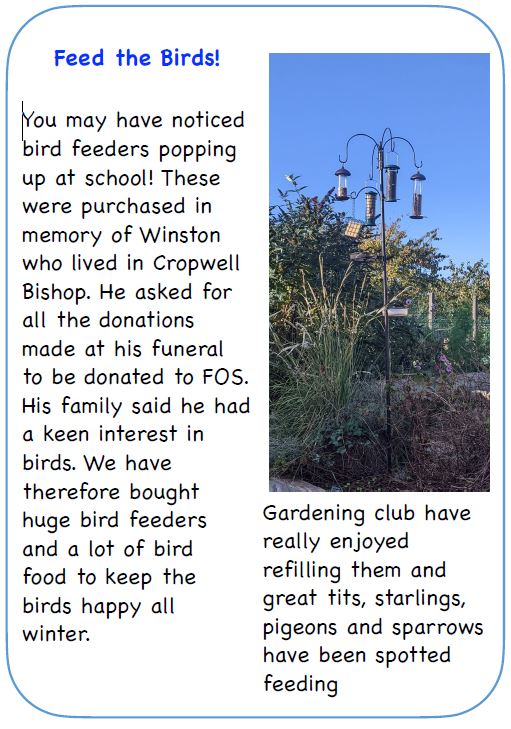 Stilton Stumble
Sunday saw the return of the Stilton Stumble, a 10 KM running race that raises money for both FOS and the Scouts. The sun was shining as over 250 runners took part. FOS would like to thank the organising committee in addition to everyone that helped on the day, from serving refreshments, helping at water stations, closing roads and marshalling runners, giving out medals…everyone worked really hard and it
made the event such a success. Inspired to run next year? Save the date - Stilton Stumble returns on Sunday 15 October 2023!
Summer Fair
Thank you to everyone who came along to the Summer Fair on Saturday. We really hope that you enjoyed it. It was so great to see the children having fun, especially as this was the first fair since 2019!
We would like to say a huge 'thank you' to all the people who volunteered to help, without whom the fair would simply not be possible! The event was run on a limited number of volunteers in addition to school staff. They all did a fantastic job, so a massive thank you to all of them! We are still finalising the total, but we will let you know how much money the event raised for the school as soon as possible!
If you fancy volunteering for a bit at one of our events or getting involved in any way however big or small, please feel free to contact cbishopfos@gmail.com or have a chat on the playground!
Thank you again for your support and we are already looking forward to the Summer Fair 2023!!
Velo Belvoir!
A very big thank you to the cyclists, volunteers, cake bakes and everyone who supported Velo Belvoir.
Photos of the event can be found on www.velobevoir.com and on the Velo Belvoir Facebook page.
We are delighted to have raised £3000 for Cropwell Bishop Friends of School and Dove Cottage Day Hospice. The £1500 to FoS will be used to create a wildlife garden and also for reading books.
Velo Belvoir will be an annual event. We look forward to welcoming you on Sunday 14th May 2023 for more sunny cycling!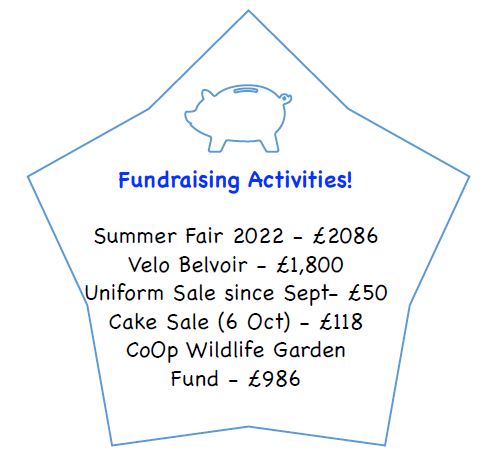 Co-Op Funding - Nature Garden
FOS is currently a Co-Op charity of choice. We are specifically raising money to build a nature garden within the school. This will involve the creation of the garden in addition to the purchase of bird feeders, hedgehog houses, wildlife cameras, binoculars etc to enthuse the children about nature. The garden will be used as an outside teaching space, a peaceful place for the children to enjoy nature and a fun space to plant seeds and watch things grow!
How it works
If you are already a Co-op member then each time you shop and buy selected Co-op branded products and services, a percentage of the cost is given to a charity.
As a Co-op member you can select which charity you want to support. We therefore hope that you will choose FOS!
The FOS cause profile page is here:
https://membership.coop.co.uk/causes/62535
If you are not already a member of Co-op but would like to join, then you can join here online at coop.co.uk/membership or by downloading the Co-op app.
Thank you very much for your support.
What is Friends of School?
Friends of School (FOS) is a registered charity comprising of volunteers who work together to raise funds by organising fun events for the children and the community. The funds are used for essential and additional school resources which directly benefit our children. The more support we get from parents, carers and families the more positive the impact we can make for our school.
Would you like to join or support FOS?
We'd be delighted to welcome new members to FOS, so don't be shy! Approach your class rep for a chat to understand more about what and how we do things. You're bound to have a skill or talent that could benefit FOS and our fundraising activities. It is really rewarding and a terrific opportunity to get to know other parents and that little bit more about the school too!

Ways to get in touch:-
cbishopfos@gmail.com
facebook: Friends of School - FOS
Cropwell Bishop primary school
Chairwoman - Ingrid Nelson (Year 6 parent)
Vice Chairwoman - Alicia Mosley (Year 4 and Year 1 parent)
Secretary - Sarah Trevors (Year 5 and Year 2 parent)
Treasurer - Claire Ciana (Year 3 parent)
Teacher Representative – Suzy Bulmer (Y1)
Class Representatives
Class R - Jo and Carrie
Class 1 - Alicia Mosley
Class 2 - Natasha Bonser & Lucy Besson
Class 3 - Claire Ciana & Rosny Allan
Class 4 - Amy Rushby
Class 5 - Lucy Gallacher & Heather Timmins
Class 6 - Helen Fenner, Rosny Allan & Ingrid Nelson