Working From Home Grids and Stay Safe in the Sun Competition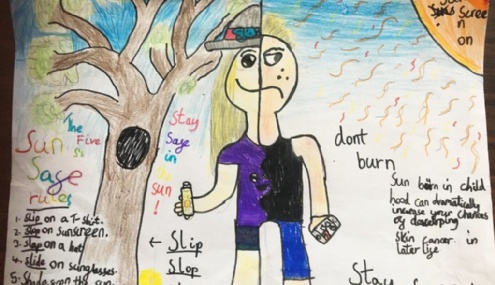 Week Commencing Monday 8th June 2020
Please see the attached letters from Miss Hussey regarding the phased re-opening of school on Monday 8th June. It is necessary, in light of the Covid-19 pandemic, to make some adjustments to our Behaviour Policy for the safety of all pupils and staff. These adjustments are set in the Behaviour Policy 2020 Covid-19 Addendum attached below.
Thank you to everyone who entered the competition, the posters are fantastic and copies of them all will be put up around school.
The winners of the competition are:-
1st - Gracie Clifford-Jones, Class 5
2nd - Max Hartill, Class 1
3rd - Sophia Negri, class 3
Please click on your class link for week commencing Mnday 8th June's Working From Home Grid.
Don't forget to check out the Sporting Activities page and Wellbeing page for some more activities.
Visit the Keeping in Touch page to see what other children have been up to.