Children In Need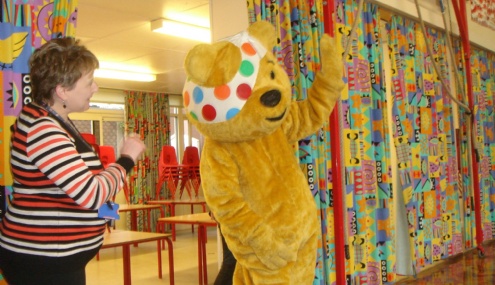 Today we had a very special visitor in school, Pudsey Bear from the Children in Need Charity came to visit. He was selling Children in Need merchandise before school, ready for our Ramble in aid of Children in Need this afternoon and having his picture taken with children. He then came into our morning assembly and answered questions that the children had. So far we have raised £796.81 with Pudsey merchandise, Pudsey Photos and Ramble sponsorship.
Unfortunately, due to the dreadful rain that arrived over lunchtime we had to postpone our Ramble to another day. However, the children continued with Pudsey activities in the afternoon.
Classes R and 6 braved the weather and went out to explore the school grounds.
Classes 1, 2 and 4 took part in Pudsey Yoga and later Classes R and 2 paired up for Pudsey Reading Buddies.